1 in 2 🎰✨ 50% chance of encountering a high setting 🎰✨ Peka lamp enhanced week starts at 20:00 🔥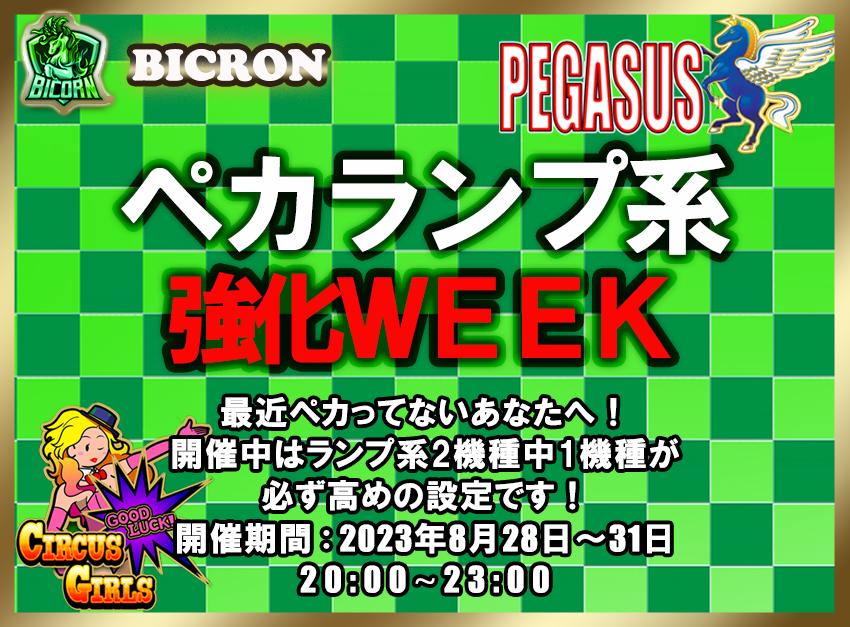 It will be held from 20:00 to 23:00 every day for 4 days😎What a 50% chance of meeting a high setting👍
Thank you for your continued patronage of Bicorn.
This is Mateo, the manager of Bicorn.
Thank you all for waiting!
From 20:00 today, we will hold a WEEK for strengthening the Peka Lamp system.
One of the two types of Peka lamps ( CIRCUS GIRLS , PEGASUS ) is set to high and wide open!
"4 days" event will be held!
The probability of encountering a high setting is 50%!
Don't miss this opportunity because it's a great chance!
High setting models will be released on the telop during the event, so
please pay attention at any time! (announcement time is a secret)!
Please look forward to when it will be announced and wait while playing!
Please do not miss this site telop!
What is the content of the Peka Lamp-based enhanced WEEK ! ? Check it out below!
August 28 20:00-23:00
August 29 20:00-23:00
August 30 20:00-23:00
August 31 20:00-23:00
====== =================================================================================================================================================================================================================
_
・August 28 19:45-20:00, 23:00-23:15
・August 29 19:45-20:00, 23:00-23:15
・August 30 19:45-20 :00, 23:00-23:15
, August 31 19:45-20:00, 23:00-23:15
==================== ======================
Thank you for your continued support of Bicorn.
https://bicorn.world/