Peach Blossom 🍑 Super Full Bloom Festival 🌸 Hinamatsuri big event will be held from 0:00 on 3/3 🎎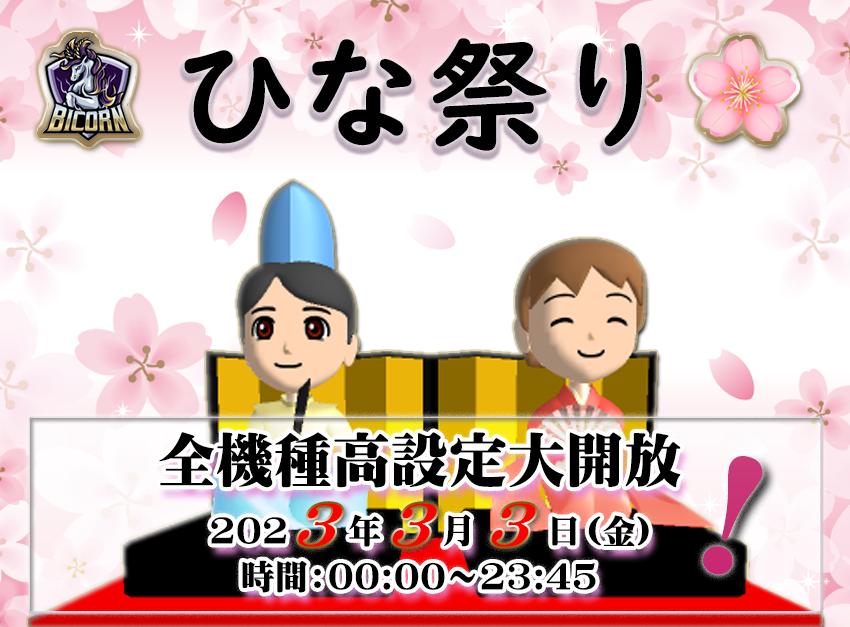 Thank you for your continued patronage of Bicorn.
This is Mateo, the manager of Bicorn.
Well, the first big Hinamatsuri event will be held in March soon!
There is no doubt that the new model Ryu will be introduced and it will be even more exciting!
Experience a moment of bliss!
This time, a transcendental long event devised by the new manager Mateo!
You can find free time and hit when you like!
More…! All height settings 🎰☝
Don't miss this chance! !
Please look forward to it!
Come on, come on! Please join us!
What is the content of the Hinamatsuri big event? ? Check it out below!
March 3 00:00-23:45
======================================= ===
Please note that the store will be closed for maintenance during the following hours.
March 2nd 23:45-00:00
March 3rd 23:45-00:00
============================ ==============
High setting god advent to bicorn! Invincible! Deficit readiness declaration!
——————————-
Thank you for your continued support of Bicorn.