Bicorn continues to evolve! March Event Calendar Information 👀📝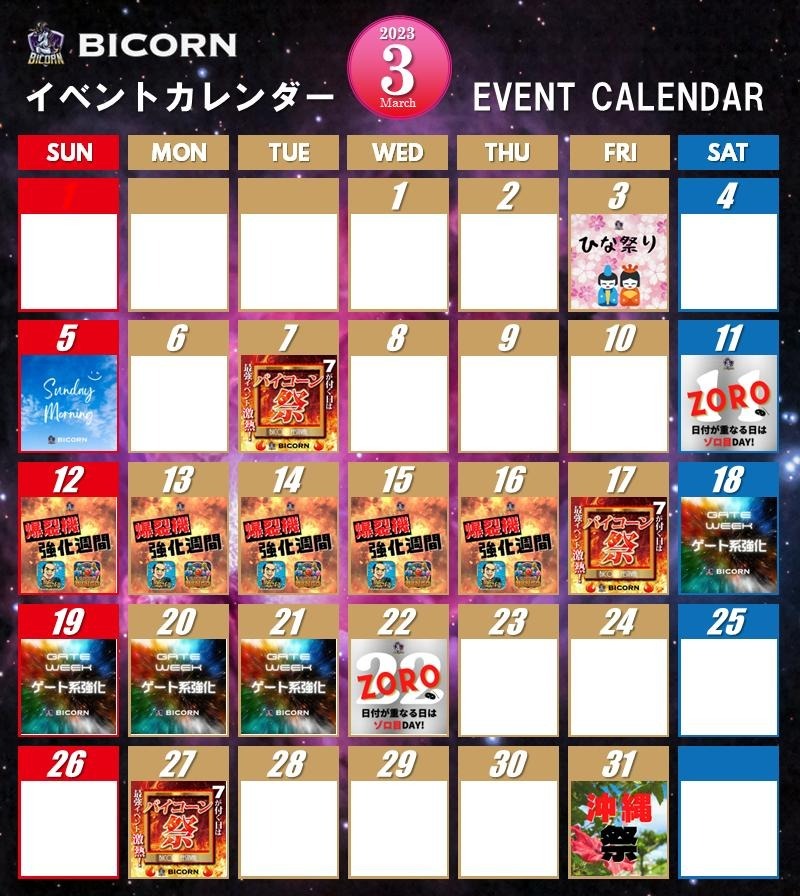 We would like to express our sincere gratitude to all of you for your continued patronage of Bicorn.
This is Mateo, the manager of Bicorn.
If you think 2023 has started, it's already March! March is the end of winter and the
beginning of spring🌸How was
yesterday's Bicorn Festival Ryu-
san Special?!
It has received!
If you haven't hit it yet, please give it a try!
Also, the deposit bonus will end on 3/8 (Wednesday), so
if you haven't made a deposit yet, or are thinking of making a deposit, we
are currently running a new deposit bonus / deposit bonus campaign, so
please take this opportunity to make a deposit. Recommend 💰
Announcement of the March event schedule that everyone has been waiting for!
March 3rd coincides with the month and day of the Doll's Festival! Big event!
On March 5th, it will be a relaxing Sunday morning!
From the 3rd week, the new model Ryu-san will be the main event to strengthen the explosive machine, followed by
the Bicorn original machine gate type 2 model strengthening event!
In addition, it has become a familiar event!
It will be a month that everyone can enjoy, so please look forward to it!
Check your email, Twitter, and event dates 👀Full
throttle from start to finish this month🎰
——————————-
Thank you for your continued support of Bicorn.