This campaign has ended! We look forward to your participation again!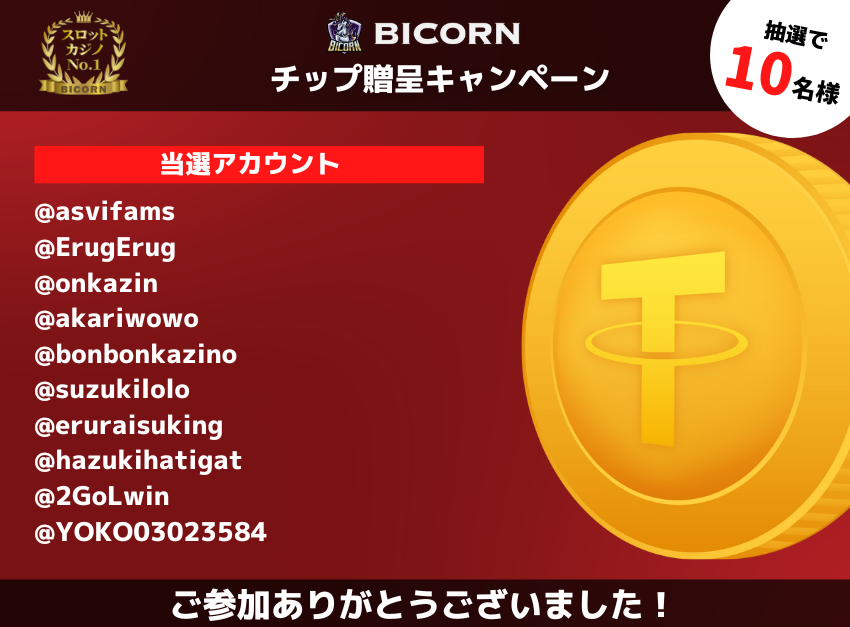 We would like to express our sincere gratitude to everyone for your continued patronage of Bicorn.
I'm Ronnie, the manager.
This is the first bonus chip 20USDT gift campaign from Bicorn!
It's my first time, so I'm going a lot!
Campaign overview:
Follow Bicorn Twitter official account (@IBicorn) and get a chance to get a bonus chip (virtual currency 20USDT)! You can participate even if you have not registered for Bicorn (*).
* A Bicorn account is required to receive USDT after winning.
Participation conditions:
① Follow Bicorn's official Twitter account (@IBicorn) (*)
② RT the campaign announcement tweet
* If you have already followed @IBicorn, you do not need to follow it again.
Holding period:
June 27, 2022 (Monday) 9:00 AM-July 11, 2022 (Monday) 9:00 AM
Lottery result:
・ 10 people will be randomly selected from the target people.
・ The lottery results will be announced on the official Twitter account (@IBicorn) and this page within two weeks from the end of the campaign.
・ The winners will be contacted individually via Twitter DM, so please make settings so that you can receive DM.
Points to note:
・ Application will be completed when the participation conditions are met. There is no individual notification of application completion.
・ Twitter accounts that are set to be private are not eligible for application.
・ If you do not receive a reply within 48 hours after contacting DM, it will be considered as a waiver of the right to receive and the right to win will be transferred to another person. The same applies when DM cannot be received due to the settings (if DM cannot be received, it is considered as an immediate waiver of the right to receive).
・ After the right to receive is waived, the right to receive cannot be re-granted for any reason.
・ Bonus chips will be sent through the Bicorn account. Therefore, in order to receive it, it is necessary to open a new Bicorn account or already have one.
・ The handling of virtual currency after receiving bonus chips is in accordance with Bicorn's Terms of Service.
・ If the following circumstances are found, the right to receive may be invalidated. In addition, we may take measures such as confiscation after delivery of 20 USDT.
a) If it turns out that one person has created multiple accounts
b) If you cannot send or receive an email to the registered contact
c) If it turns out that you are using false information
d) In addition, it was determined that Bicorn did not meet the terms of use and other requirements.
If it is determined that it is an illegal act
==========================================
Campaign period → 6/27 9: 00-7 / 11 9:00 Deadline!
==========================================
What a bonus for 10 people
by lottery Tip 20USDT present! To participate , just follow the official TW and retweet (RT) the campaign post on Twitter ! Just click ♪ Please receive a gift from Ronnie!


——————————-
Thank you for your continued support of Bicorn.