[Bicorn]

 Finally held at 18:00 today! 

Notice of "Spring Gate Festival" !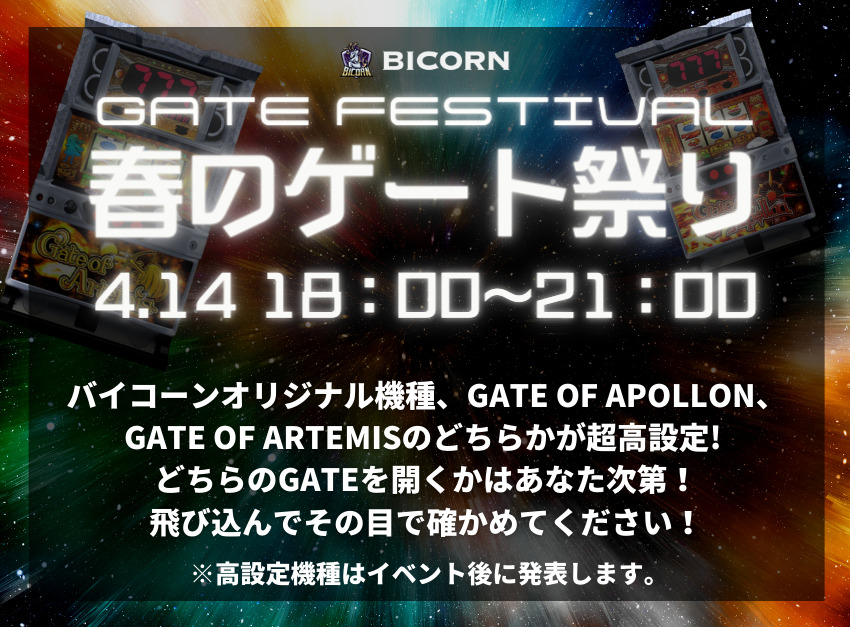 Thank you for your continued patronage of Bicorn.
I'm Ronnie, the manager.
Thank you for your patience! From 18:00 today , we will hold a spring gate festival
planned by the manager Ronnie .
The manager Ronnie will respond with confidence!
The content is sure to be enjoyed by everyone!
Because this time is a popular model series!
One of the two Bicorn original gate-type models ( GATE OF APOLLON and GATE OF ARTEMIS )
is extremely hot! !!
Which platform has the higher setting? Everyone, please look for it!
If you play, you should be able to see the high setting model at a glance!
There is a one-half chance of hitting a high setting! It's a fierce heat ~ ♪
Come on! Please join us!
* High setting models will be announced after the event!
==================================== =====
The store will be closed for maintenance during the following times.
・ 17: 45 ~ 18: 00
・ 21: 00 ~ 21: 15
================================= ========
Experience the Bicorn original machine to your heart's content!
——————————-
Thank you for your continued support of Bicorn.