[Bicorn] Notice of 

"Bicorn Festival"

 at 15:00 today !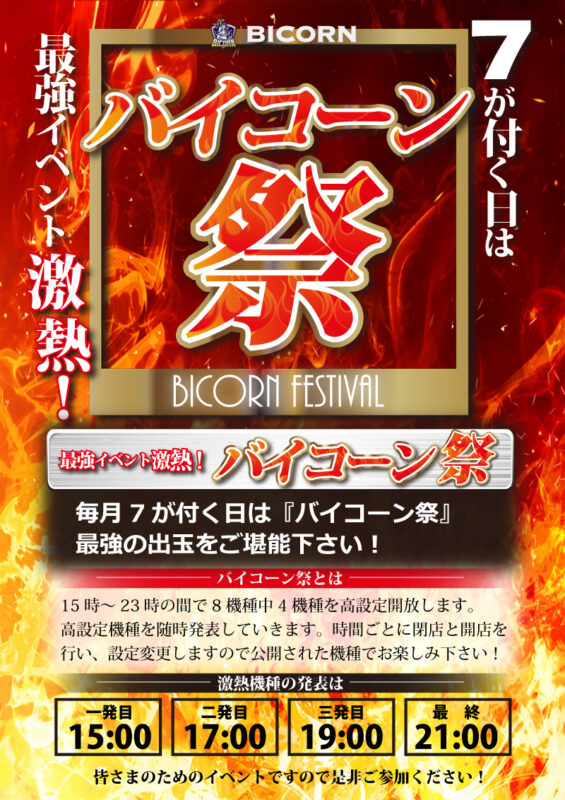 Thank you for your continued patronage of Bicorn.
I'm Ronnie, the manager.
Thank you for your patience!
Bicorn's strongest heat event from 15:00 today ! We will hold a bicorn festival .
The long-awaited day has arrived! The first Bicorn Festival in April! The
manager Ronnie will respond with confidence!
When should I release it here !? Today!
We are waiting for you with passionate sales! Declared a deficit today!
Whether you have time or not, please make time to join us from 15:00.
High setting confirmed! It's an event .
It's my own pull, and there is no limit! That's the slot!
Even if you can not participate from 15:00, we will announce the high setting model at the following time, so please join us!
The announcement of the intense heat model will be
15:00 for the first
shot, 17:00 for the
second shot, 19:00 for the third shot , and
21:00 for the last shot.
We will change 4 of the 8 models every 2 hours, so please enjoy the big hit with various models!
The announcement will be at 15:00, so do n't miss twitter and this site telop !
==========================================
addition, the following time is for maintenance Therefore, it will be closed.
・ 14: 45 ~ 15: 00
・ 16: 45 ~ 17: 00
・ 18: 45 ~ 19: 00
・ 20: 45 ~ 21: 00
・ 23: 00 ~ 23: 15
========== ================================
Excited to get out! Experience the power of a hurricane!
——————————-
Thank you for your continued support of Bicorn.