[Bicorn] Finally held at 18:00 today! Notice of

"White Day Event"

 !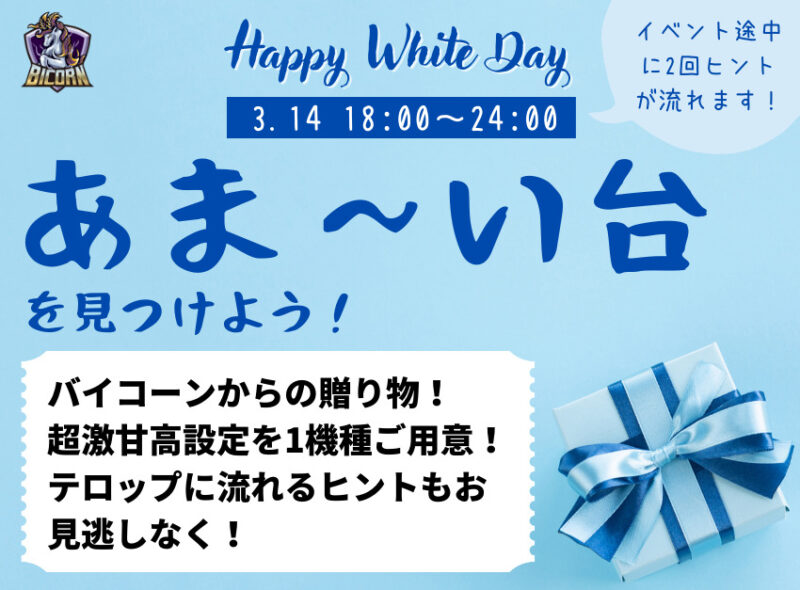 Thank you for your continued patronage of Bicorn.
I'm Ronnie, the manager.
Thank you for your patience! We will hold a White Day event
planned by the manager Ronnie from 18:00 today .
In honor of White Day, the store manager Ronnie is preparing a
melting table with daily gratitude !
I want you to receive a small gift stand for everyone from the manager Ronnie ♪
During the event, we will announce two tips about Ama-idai!
Tips for high-setting models (Ama-i stand)
will be announced on the telop (announcement time is a secret)!
Please do not miss this site telop !
Please look forward to it and wait for it to be announced!
This is an event for everyone, so please join us!
* Which model is the best model will be announced after the event.
==========================================
addition, the following time is for maintenance Therefore, it will be closed.
・ 17: 45 ~ 18: 00
・ 00: 00 ~ 00: 15
================================= ========
We look forward to your participation in the 6 hours that will melt you!
——————————-
Thank you for your continued support of Bicorn.