[Bicorn] Announcement of Profit Return Festival Event Ranking!
We would like to express our gratitude for your continued patronage of Bicorn.
Player of everyone, 1 was the week of the ranking event your participation cheers for good work!
Now, it's time to announce the final ranking that I'm curious about!
■ Earn a total of 10,000 USDT ! Profit Return Festival Event WIN Ranking
◇ 1st place: Earn 5,000 USDT !
From the mid-term announcement, I rushed with the momentum of rage!
Great result! Just the emperor! congratulations!
◇ 2nd place: Earn 2,000 USDT !
I kept it unchanged from the interim announcement and protected it!
A terrible catch-up! As expected! congratulations!
◇ 3rd place: 1,000USDT earned!
This is also a stable defense! well done! congratulations!
◇ 4th place: Earn 500 USDT !
◇ 5th place: Earn 500 USDT !
4th and 5th place will continue to the end! congratulations!
◇ other 7 of 9 -position of 2 for those who of people 500USDT will be won. congratulations!
The top 5 players who were able to decorate the endless beauty! 2 people!
Congratulations on winning the prize!
With regard to prize 12 May 13 will be sent to your account until the day (Monday).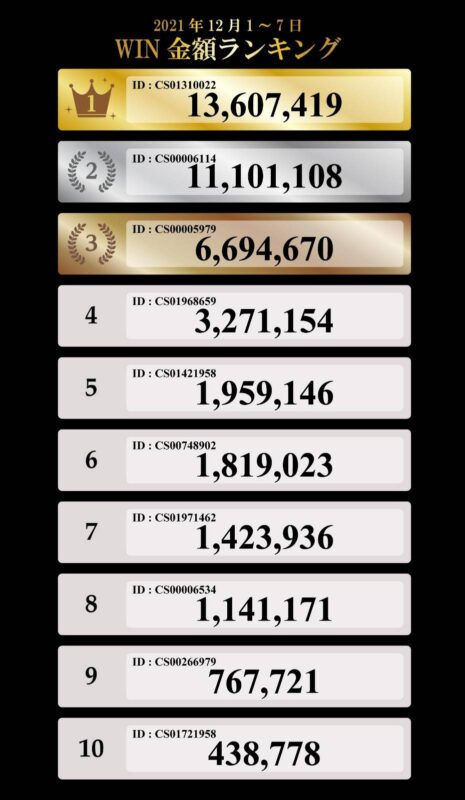 Let's do our best next time for all the players who couldn't win the prize!
We will continue to hold various events in the future, so we will have a bicorn
We would appreciate it if you could give it a favor!
Thank you for your continued support of Bicorn.
https://bicorn.world/