This is the only event for the first time in October👍ART FESTIVAL will be held from 8pm today🎰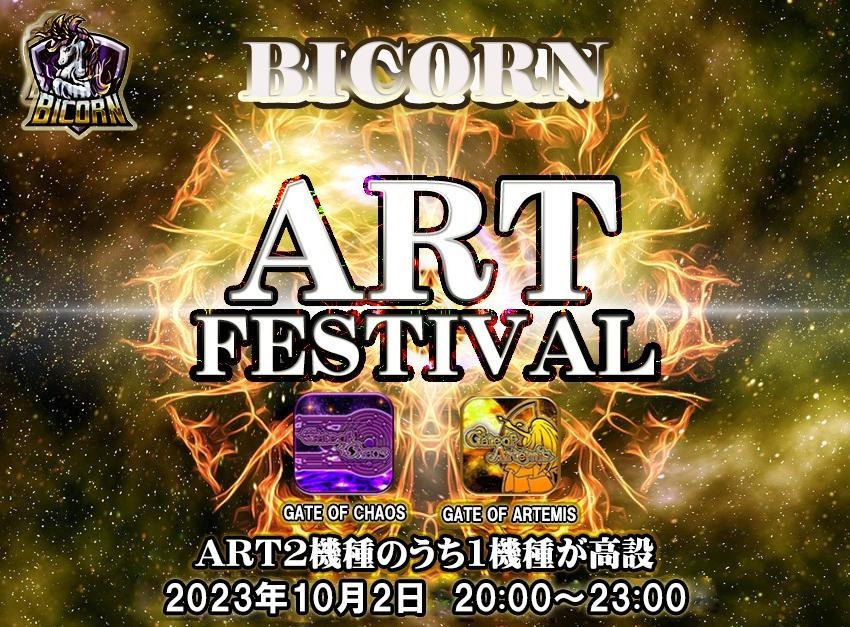 Pay attention to the event featuring the most popular models 🌟🌟🌟 Super hot event 🔥⚡🔥⚡🔥⚡🔥
Thank you everyone for your continued patronage of Bicorn.
I'm Mateo, the manager of Bicorn.
Thank you everyone for waiting!
ART FESTIVAL will be held from 8pm today.
One of the 2 ART models ( GATE OF CHAOS , GATE OF ARTEMIS ) has been released with high settings!
The probability of finding a high setting is 50%!
Don't miss this chance as it's a huge chance!
High setting models will be revealed on the caption during the event, so
please keep an eye out! (Presentation time is a secret)!
Please look forward to when it will be announced!
Please do not miss this site telop!
=======================================================================================
The following times are for maintenance. We will be closed due to this.
・19:45~20:00
・23:00~23:15
================================== ========
Thank you for your continued support of Bicorn.
https://bicorn.world/