🔥Don't lose to the heat wave🔥✨Happy weather✨HAPPY DAY will be held from 16:00🍀🍀🍀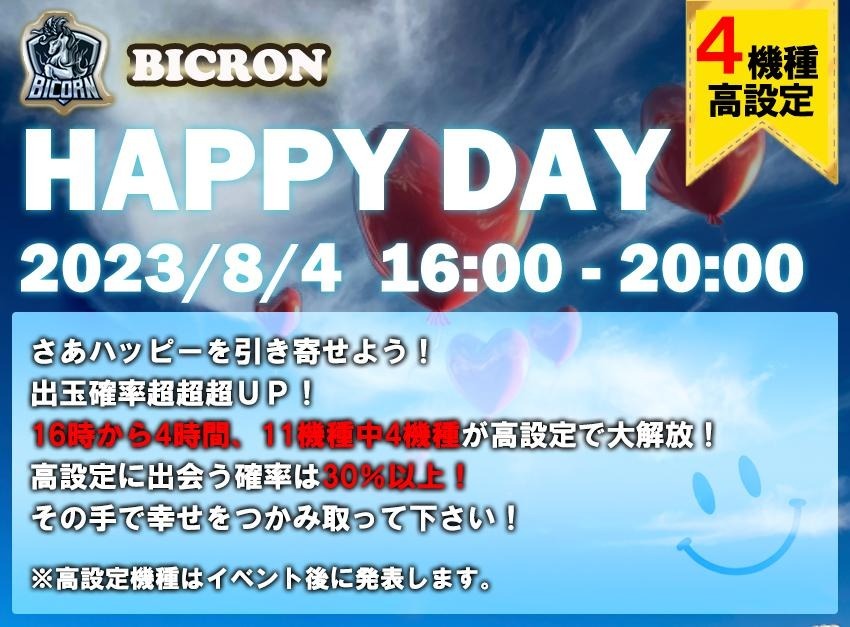 Days with 4, 4 hours, 4 models high setting open 🎰🎰🎰🎰
Thank you for your continued patronage of Bicorn.
This is Mateo, the manager of Bicorn.
Thank you for waiting, everyone! HAPPY DAY will be held
from 16:00 today .
Surprisingly, the probability of meeting a high setting model is 30%!
4 out of 11 models will be opened with ultra-high settings !
Grab happiness with your own hands!
What is the content of HAPPY DAY! ? Check it out below!
August 4th 16:00-20:00
======================================= ===
Please note that the store will be closed for maintenance during the following hours.
・15:45~16:00
・20:00~20:15
================================== ========
Thank you for your continued support of Bicorn.
https://bicorn.world/