🎰✨Premium event with a signboard✨🎰Premium bicorn festival held once a year from 15:00🔥🔥🔥🔥🔥🔥🔥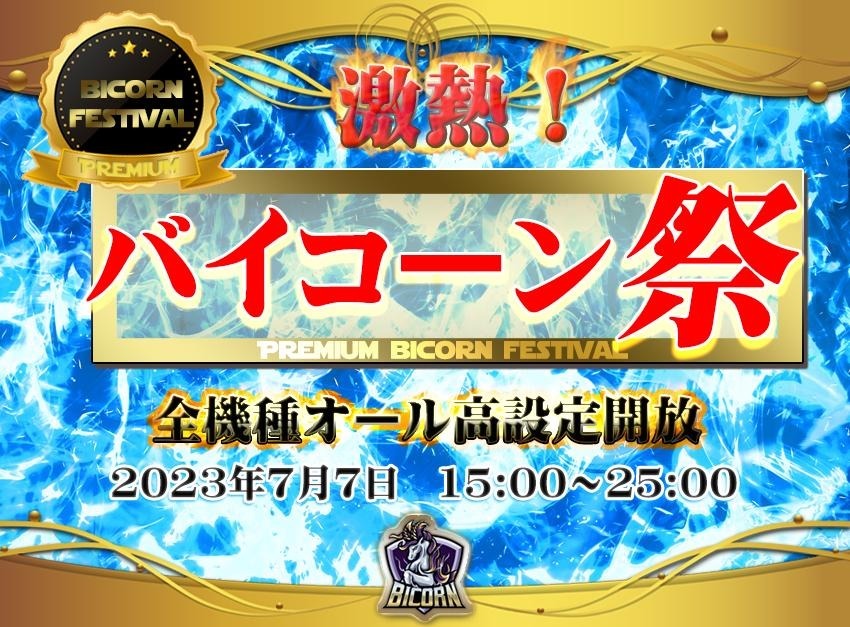 High setting open for all models = Winning rate greatly improved ! ? 🌈🌈🌈🌈🌈🌈🌈🌈🌈🌈
Thank you for your continued patronage of Bicorn.
This is Mateo, the manager of Bicorn.
Thank you all for waiting!
Bicorn's strongest hot event from 15:00 today! We will hold the Premium Bicorn Festival.
The strongest signboard event that bears the store name only once a year!
Of course, like every time, the settings are set to ultra-high, but this time, all models are set to high settings!
Excitement never stops! ?
Enjoy the 10-hour ultra-long hot event!
High setting confirmed! It is a hot event .
It's your own pull, there's no limit! It's a slot!
Even if you can't participate from 15:00, it will be a super long event of 10 hours until 25:00 , so please join us!
All 11 models are open at high settings , so please enjoy the jackpot with various models!
Also, from July 1st to 7th, we have a great deposit bonus 💰✨💰✨💰✨💰✨
↓ Click here for deposit bonus details
■ The minimum deposit amount for each currency is 10,000 yen or more
■ Depending on the deposit amount Bonus chips equivalent to 50%
■Deposit bonus payment upper limit is 100,000 yen
■Bonus chips will be distributed in USDT
■Bonus chips will be awarded by 7/17 (Monday)
== ========================================
Please note that the store will be closed for maintenance during the following hours. becomes.
・14:45~15:00
・1:00~1:15
================================== ========
God advent of high setting to bicorn!
——————————-
Thank you for your continued support of Bicorn.
https://bicorn.world/