[must read] May event calendar information 👀📝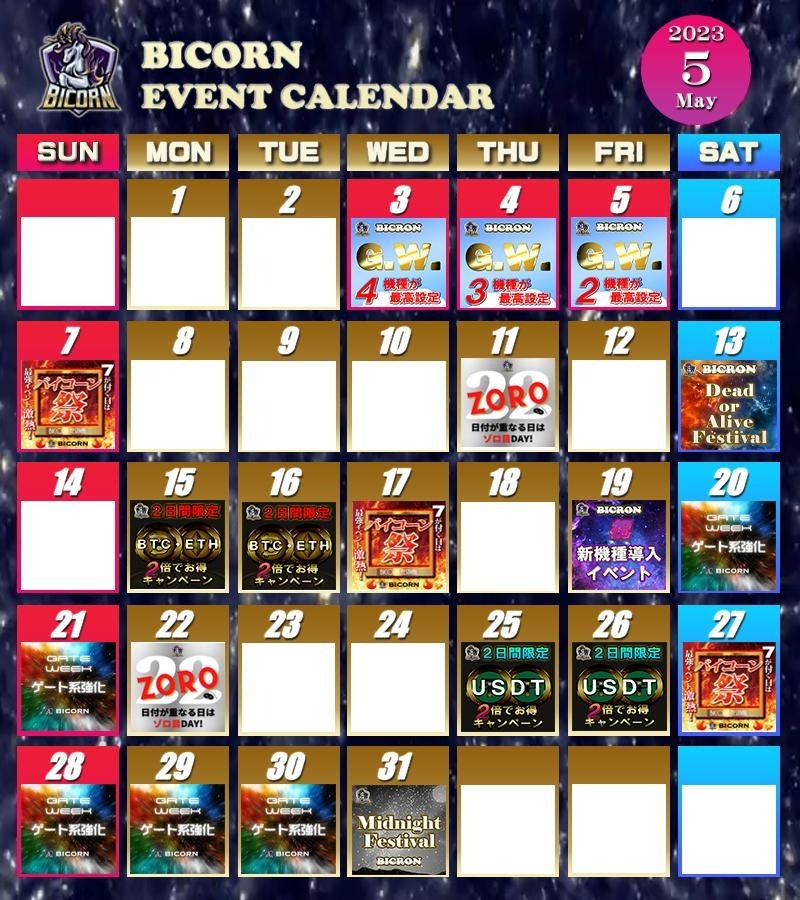 We would like to express our sincere gratitude to all of you for your continued patronage of Bicorn.
This is Mateo, the manager of Bicorn.
The May event schedule that everyone has been waiting for has been announced!
Even at Bicorn, the three-day GW festival Wasshoi!
GW is open for a long time with high settings , so please come and visit us! New event
on May 13th ! Dead or Alive Festival!
As the name suggests, this event is full of super thrills and fun!
And the most important thing is May 19th!
On May 19th, a new machine was introduced again! Moreover, this time we have introduced two models!
These are two models that you can't miss, and you can enjoy the game with a lot of charm!
It is a model that can only be experienced with Bicorn, so please make sure to save your schedule! (smile)
Two days on May 15th and 16th, double the BTC and ETH !
Two days on May 25th and 26th, double the USDT !
This time it 's only for 2 days , so check it out on the deposit bonus day 📝There
are many familiar events!
And at the end of May…! New event! Midnight Festival!
How about playing with Bicorn at a different time than usual!
It will be a month that everyone can enjoy, so please look forward to it!
Check your email, Twitter, and event dates 👀Full
throttle all day long🎰
——————————-
Thank you for your continued support of Bicorn.