[Bicorn] 

Lucky 7day , the last 

divine heat in July! 

Today at 15:00,

the super-heated " Bicorn Festival"

 starts!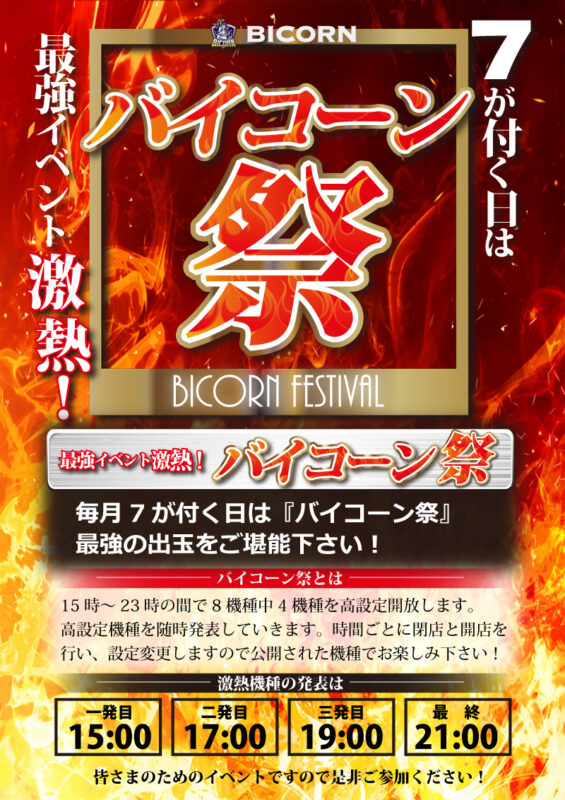 Thank you for your continued patronage of Bicorn.
This is Ronnie, the manager.
Thank you for your patience!
Bicorn's strongest heat event from 15:00 today ! We will hold a bicorn festival .
The long-awaited day for everyone! Today is the day!
As I say many times , the Bicorn Festival has released a high-setting model!
Worth hitting! No … I have no choice but to hit it! !! !!
As always, the setting is quite high, so I'm super excited!
Needless to say, the key to victory is to hit the hot model released every hour!
Whether you have time or not, please make time to join us from 15:00.
High setting confirmed! It's an event.
It's my own pull, there is no limit! That's a slot!
Even if you can not participate from 15:00, we will announce the high setting model at the following time, so please join us!
The announcement of the intense heat model will be the
first 15:00
, the second 17:00 , the
third 19:00 , and the
last 21:00 .
We will change 4 out of 8 models every 2 hours, so please enjoy the big hit with various models!
The announcement will be at 15:00, so do n't miss twitter and this site telop !
==========================================
The following time is for maintenance Therefore, it will be closed.
・ 14: 45 ~ 15: 00
・ 16: 45 ~ 17: 00
・ 18: 45 ~ 19: 00
・ 20: 45 ~ 21: 00
・ 23: 00 ~ 23: 15
========== ================================
A high setting alarm will be issued from 15:00 today! High setting god advent to Bicorn!
——————————-
Thank you for your continued support of Bicorn.