[Bicorn] 

Held today at 17:00! Information on 

"Okinawa Festival"

!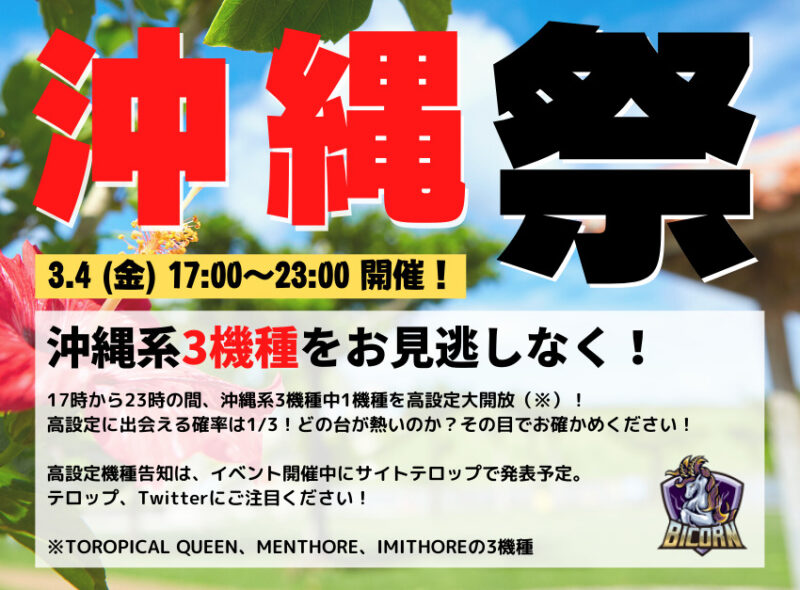 Thank you for your continued patronage of Bicorn.
I'm Ronnie, the manager.
Thank you for your patience! The Okinawa Festival planned by the manager Ronnie will be held
from 17:00 today .
We will respond with confidence because it is the first event in March!
The content is sure to be enjoyed by everyone!
Of the three Okinawan models ( TOROPICAL QUEEN, IMITHORE, MENTHORE )
One model is extremely hot! !!
Which stand has the highest setting? Everyone, please look for it!
If you play, you should be able to see the high setting model at a glance!
Come on, come on! Please join us!
High setting models will be announced on telop (announcement time is secret)!
Please do not miss this site telop!
Please look forward to it and wait for it to be announced!
==========================================
In addition, the following time is for maintenance Therefore, it will be closed.
・ 16: 45 ~ 17: 00
・ 23: 00 ~ 23: 15
==========================================
We look forward to your participation in this exciting and exciting 6 hours.
Thank you for your continued support of Bicorn.